The new DXS‑1210‑28S and DXS‑1210‑28T smart switches offer cost‑effective, intelligent options for enterprise aggregation and access, or SMB core network roles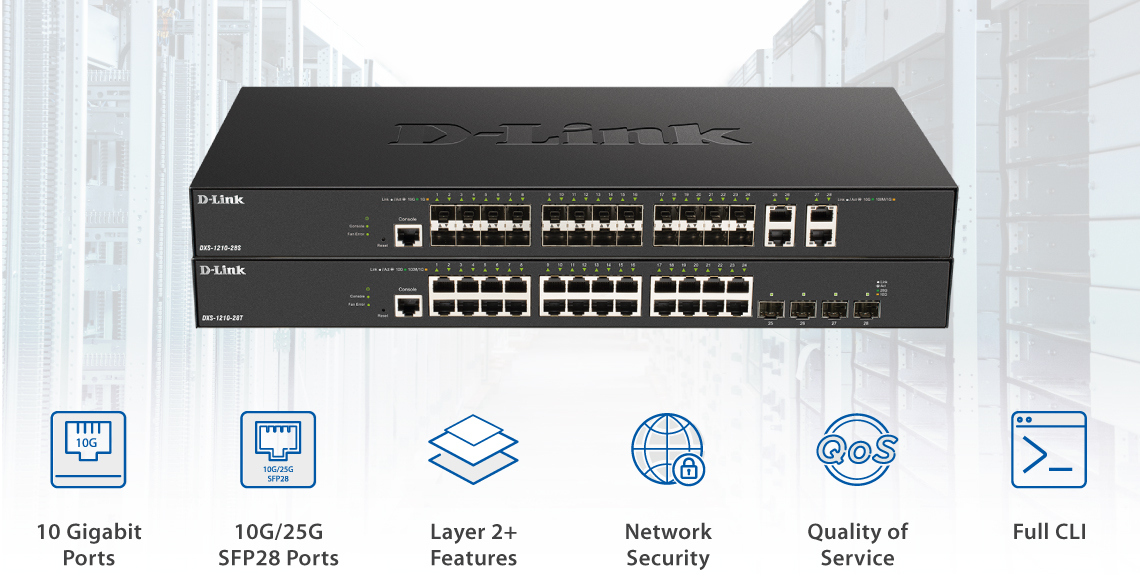 September 29, 2020 − D-Link, the multinational networking equipment manufacturer, has bolstered its DXS-1210 Series of 10 Gigabit Smart Managed Switches with two new high port count additions to the portfolio – the DXS-1210-28S and DXS-1210-28T. From access and aggregation in an enterprise network, to forming the core of a smaller business network, these new additions provide intuitive, flexible and cost-effective options for IT managers.
The DXS-1210-28T comes with 24 x 10GBASE-T and 4 x 25GE SFP28 ports. The 10GBASE-T ports provide an easy upgrade to 10 Gigabit connectivity using existing CAT6/7 cabling while the 25GE SFP28 ports offer high bandwidth connections to server farms or the network core.
The DXS-1210-28S is equipped with 24 x SFP+ ports and 4 x 10GBASE-T ports, allowing long-distance connectivity using fibre transceivers as well as the flexibility of additional copper ports.
Both switches offer high performance and low latency that are well suited to support virtualisation, cloud services, and server-to-server applications, making them the ideal choice to manage high-bandwidth demand.
The DXS-1210 Series switches offer a robust line-up of L2 features to improve the manageability and performance of a network. These include port mirroring, Spanning Tree Protocol (STP), and Link Aggregation Control Protocol (LACP). They also offer lite layer 3 functions such as wired speed inter-VLAN static routing to further enhance network efficiency by reducing the pressure on routers and backbone networks.
Each of these DXS-1210 series switches also offers a range of sophisticated but simple to deploy security features including D-Link's innovative Safeguard Engine™, which works to protect against traffic flooding caused by malicious attacks. Additionally, the switches support 802.1X port-based and host-based authentication for network access control as well as ACL, ARP spoofing prevention and DHCP server screening to enhance network security and improve protection against threats.
The DXS-1210 Series can be managed through the free D-Link Network Assistant (DNA) utility, with the ability for simultaneous configuration and maintenance of multiple switches. Alternatively, network management can be done through the multi-lingual web UI, a full command-line interface (CLI) through Telnet or console port, as well as D‑View 7 Network Management System.
About D-Link
D-Link is a global leader in connecting people, businesses, and cities with our computer networking solutions and technology. Our innovative products and services meet the needs of digital home consumers, small to medium sized businesses, enterprise environments, and service providers. D-Link implements and supports unified network solutions that integrate capabilities in switching, wireless, broadband, IP surveillance, and cloud-based network management. An award-winning designer, developer, and manufacturer for over 30 years, D-Link has grown from a group of friends in Taiwan into a global brand with over 2,000 employees in 60 countries.