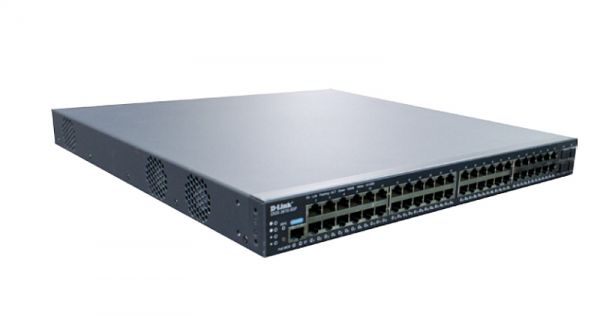 DGS-3610-50P
Proje
Managed Layer 3 switch with a series of xStack 44-port 10/100/1000 Base-T PoE + 4 combo ports 1000Base-X/SFP + 2 expansion slots
Nereden Alınır
Tanımlama
The new generation of the third-level switches DGS-3610-50P provides high performance and wider security functions. They are available through a variety of interfaces with the user, as this will give the network installation flexibility.
The device supports Gigabit interfaces with the customer has 10 Gigabit ports, and non-blocking switching - so DGS-3610-50P is ideal for aggregation level (Aggregation Layer) large, high-bandwidth throughput and flexibility-intensive networks, the kernel level (core layer) in small networks and access level (Access Layer) for use in data centers, servers connect to the cluster.
DGS-3610-50P level technical support for IPv4 and IPv6, as well as wider tunnel building technology for data exchange between IPv4 and IPv6 networks. This series of switches can be used for IPv4, IPv6, IPv4/IPv6 dual stack network.
Switch supports multilevel traffic classification, QoS policies of different data flow processing, corresponding to different application requirements, and thus ensure timely especially important for data transmission.
DGS-3610-50P is a high-performance, maintain a high quality of service (end-to-end QoS), increased security features and network management, according to the politician. This unit is an excellent price-quality ratio and the fast data transfer and maximum protection.
Reliability
Switch supports a variety of fault-tolerant techniques. One of them - Rapid Ether Ring Protection (RERP). RERP - is a network protection mechanism to ensure the normal operation of the unit, and without affecting the convergence over the network. The mechanism enables fast backup channel if the connection to the Ethernet ring. Switch also supports Spanning Tree protocols, Rapid Spanning Tree and Multiple Spanning Tree.
IPv6 Support
The Internet is constantly expanding and growing number of applications in which the Internet is used, a growing number of wireless devices and various software for home and office use in games. IPv6 simplifies the addressing information of the nodes in the network access mechanism and ensures kompelksinę Network Installations. IPv6 support is very relevant for application and services that use a lot of IP addresses.
High level of protection
Network access control enforced by the ACL-based policies, functions, Port Security, IP-MAC-Port Binding and IP addresses scanning insurance (Defeat IP Scan). Security features protect against malicious attacks, besimaskuojančių the management protocols and can cause the CPU restart, which would reduce the device's performance. DGS-3610-50P supports SSH v2 and SNMP v3 and thus ensures a secure switch management, because management uses a data stream authentication and encryption.
QoS and Bandwidth Management
Switch DGS-3610-50P supports the following traffic management features as Broadcast / Multicast Storm Control and Bandwidth Management by flow. In addition, supported by management outgoing traffic of 64 kbit / s increments. Speed ​​limit (in CPE users) and access to the event log management functions are particularly relevant MEN (Metropolitan Ethernet network) network service providers.
Broader governance features
Wider management function enables monitoring and control of the systems settings, network access, data traffic, troubleshooting and correcting. Switch can be managed with the CLI, Telnet, or SNMP. Also switch supports RMON monitoring, coordination mechanisms, notify custom events.
Ease of Use and Management
Several types of Gigabit interface allows the user to create a connection, which requires several Giagbit copper as well as fiber optic Gigabit channels. It extends the cable option.
DGS-3610-50P supports PoE, so it can be installed in places where there are no power outlets. PoE devices over copper cable providing power to remote PoE devices (such as access points, IP phones, and so on.). This simplifies the power supply to any IEEE 802.3af standard supporting the network device. This switch is a cost-effective solution for businesses, educational institutions, hospitals, networks, enabling them to use VoIP, remote monitoring and wireless technologies.
Network Time Protocol (NTP) - is a protocol switch sync time with the network time. This greatly simplifies the event log or data flow information analysis and fault diagnosis. Syslog helps network administrators to collect, store, analyze, copy range of information, look for faults. This facilitates network maintenance and management. CLI user interface to facilitate the installation of this device and management of advanced users.
Genel Özellikler
Power Supply:
Power consumption:
90 W (with no expansion module)
105 W (with expansion module)
Dimensions:
Working temperature:
Storage temperature:
Working humidity:
10% to 90% without condensation
Storage humidity:
5% to 95% without condensation
Fiziksel Özellikler
The interface with the user:
48 ports 10/100/1000Base-T (RJ-45)
4 mixed 1000Base-T/SFP ports (LC)
2 expansion slots
AC
Performance:
Packet transmission speed:
L2: line rate (102 mpps)
L3: line rate (102 mpps)
VLAN:
The maximum number of VLAN groups: 4K
Super VLAN
VLAN - Protocol
Double VLAN (Q-in-Q) 2 Q-in-Q under the port
MAC-based VLAN
Private VLAN
Link Aggregation:
Port redundancy:
Many-to One
According ports
Spanning Tree Protocol:
DHCP:
DHCP / BOOT client
DHCP server
DHCP Relay
DHCP Snooping
DHCP Snooping Trust
DHCPv6 server
DHCPv6 Snooping
Basic IPv6 protocols:
IPv6 addressing
Neighbor Discovery Protocol (NDP)
ND-Snooping
ICMPv6 stateless automatic configuration
Path MTU Discovery
IP Route:
Static Routes
RIP and RIPng
OSPF and OSPFv3
BGP and BGP4 +
Equal Cost Multi Path (ECMP) Routing
Load balancing packets and flows
Multicast:
IGMPv1, IGMP v2, IGMPv3, and IGMP proxy
IGMPv1 Snooping and IGMP Snooping and IGMP v2, v3
Snooping:
IGMP filter, IGMP Fast Leave
PIM-DM, PIM-SM and PIM-SSM
MLD Snooping and MLD
Support for IPv6 PIM
IPv6 tunnel:
Ability to create a tunnel manually
ISATAP tunnel
6to4 tunnel
The tunnel IPv6 over IPv4
Tunnel IPv4 over IPv6
ACL:
Standard IP ACL (according to IP address)
Expand IP ACL (the IP address and TCP / UDP port number)
Expand the MAC ACL (Ethernet type, according to source and destination MAC address)
Expert ACL level (by a random combination of VLAN ID, Ethernet type, MAC address, IP address, TCP / UDP port number, and protocol type)
ACL from the VLAN
QoS:
Traffic identification of ports
Traffic classification 802.1p/DSCP/TOS
Each port - 8 in a row with different priorities
PQ, RR, PQ + RR
Traffic Shaping
Speed ​​Limits
Hierarchical QoS
Control functions:
SNMPv1/v2c/v3
CLI (Telnet / Console)
RMON (1, 2, 4, 9)
SSH
Syslog
NTP / SNTP
SNMP pver IPv6
IPv6 MIB for SNMP
SSHv6
Telnetv6
FTP/TFTv6
DNS v6
NTP for v6
Traceroute v6
High reliability:
Update software start-up time
Device restart speeding up the process
BFD interacts with OSPF
BFD interacts with LDP
BFD interacts with PBR
Other protocols
FTP
TFTP
DNS client
DNS static
Security:
IP address, MAC address and port binding Creation
IPv6 address, MAC address and port binding Creation
Security channel support
Gateway Anti-Fraud
MAC addresses per port number restriction
MAC address filtering
Static and dynamic ARP table entries
DPA Support
DHCP server settings changes without a permit termination
Different levels of administration and password protection
AAA security authentication (IPv4/IPv6)
IP source alarm
Control the protection plan
802.1x (authentication by port, MAC address, delivery of dynamic VLANs, dynamic delivery of ACLs, Guest VLAN, MAC address authentication Avoiding the wrong destination port specified VLAN)
Protection against DoS attacks
ARP packet forwarding speed limit
Multicast and multicast transmission reduction
SSH v.2.0
TACACS +, and the source IP address setting
Radius (Radius, EXEC authorization, and the source IP address)
BPDU Guard
(MPLS will be supported with newer versions of software):
MPLS L3VPN
PE Features
MCE functions