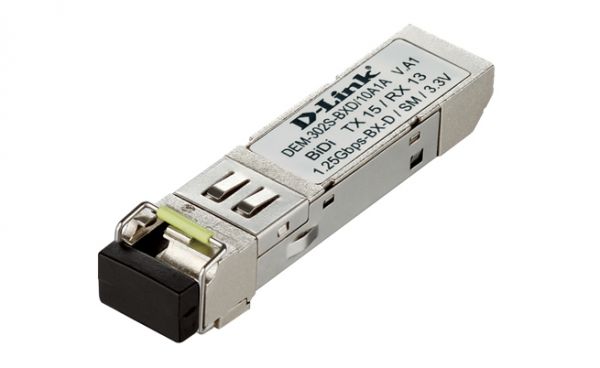 DEM-302S-BXD/10
EOL
SFP module with 1-port 1000Base-BX, for single-mode fiber optic cable, 3.3V (up to 2 km), WDM (Tx: 1550 nm, Rx: 1310 nm)
Nereden Alınır
Tanımlama
Series 1G SFP Module D-Link - it's SFP-transceiver is hot-swappable, providing the ability to connect via fiber optic cable. These optical transceivers have LC-connectors. Transceivers series 1G SFP Module can increase the transmission distance of up to 2 km, which is a significant advantage compared to a limit of 100 m using a copper cable. SFP form factor ideal for the needs of telecommunications companies, who often require switches with SFP-optic transceivers for flexible connections. These transceivers are an excellent solution for fiber-optic networks of big business enterprises and campuses.
The format of Small Form Pluggable
Transceivers Series 1G SFP Module using a standard form factor Small Form Pluggable (SFP). SFP-transceivers are installed in the slot mini GBIC Gigabit device, providing the necessary signal amplification for data transfer from the port and receive data over the network cable port.
Hot Plug
All D-Link transceivers support hot-plug capability. Connect the transceiver to a powered device will not cause any problems.This allows you to connect or disconnect the transceiver without disrupting the rest of the network.
Speed ​​1 Gbit / s
All transceivers are designed to work in networks Gigabit Ethernet, which allows for high speed data transmission. This allows the switch to faster and in greater volume to handle data streams.
Bidirectional (WDM) technology
Bidirectional (WDM) technology enables the reception and transmission of data over a single fiber using two different wavelengths. This helps to save additional cost of deploying fiber optic cables, and also provides a more flexible allocation of bandwidth.
Genel Özellikler
Fiziksel Özellikler
Standards
IEEE-802.3z, 1000BASE-BX
Type form factor
SFP
Support for fiber optic cable
Single-mode
Transmission distance
2 km
Capabilities
• Hot Plug
• Compatible with MSA
• Compliant with RoHS
Speed
1 Gbit / s
Jack
Simplex LC
Uni-/bidirectional
Bilateral
Wavelength
Output power (TX)
• Max.: -3 DBm
• Min.: -10 DBm
Optical input (RX)
• Max.: -3 DBm
• Min.: -21 DBm
Sensitivity
-21 DBm
Type of cable
• Single-mode optical
• 9/125 m, distance: 2 km

Fiziksel Özellikler
Nutrition
3.3
Max. input current
300 mA
Min. power budget
11 dB
Max. power budget
18 dB
Heat release
1,782 kJ / h
MTBF
213222 h
Operating temperature
From 0 to 70 ° C
Storage temperature
-40 To 85 C
Operating Humidity
From 5% to 95%
Humidity
From 5% to 95%
Dimensions (W x D x H)
13,5 x 56,6 x 8,5 mm
Weight
21 grams