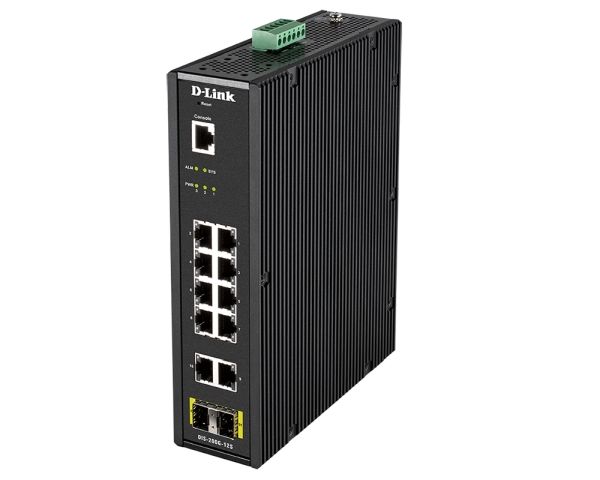 DIS-200G-12S
Proje
Industrial Layer 2 Switched Switch with 10 10/100 / 1000Base-T ports and 2 1000Base-X SFP ports
Nereden Alınır
Tanımlama
The DIS-200G-12S controlled switch, equipped with 10 10/100 / 1000Base-T ports and 2 1000Base-X SFP ports, which are used to connect to a high-speed backbone, is intended for use in industrial networks. The DIS-200G-12S supports D-Link Green technology and advanced management and security features. Management functions include SNMP, Web-based management, D-Link Network Assistant and the command-line interface (CLI).
Reliable design
The metal housing (IP30 standard) and a wide operating temperature range allow the DIS-200G-12S to be used in adverse environmental conditions. A high level of electromagnetic compatibility ensures the stability of the switch to the effects of strong electromagnetic interference, and the passive cooling system - the noiseless operation of the switch. This device can be mounted on a wall, mounted on a DIN rail or in a 19-inch rack using the appropriate brackets (rack mounts are not included in the scope of delivery).
Protection against static electricity of 6 kV ensures the stability of copper ports to the induced voltage and prevents damage to the switch and the devices connected to it.
Reliability and fault tolerance
The DIS-200G-12S supports Ethernet Ring Protection Switching (ERPS 1 , ITU-T G.8032), which provides a minimum recovery time for the ring after a failure. To ensure maximum fault tolerance, the switch is equipped with a dual power redundancy scheme: up to two independent DC 2 power supplies can be connected to the DIS-200G-12S , and a connector for connecting the AC 2 power adapter .
Auto Surveillance VLAN 1
The DIS-200G-12S supports Auto Surveillance VLAN (ASV), making it an ideal solution for deploying video surveillance systems. This functionality allows you to automatically recognize in the general network of video surveillance equipment and allocate it to a separate VLAN within which the highest priority of service will be assigned for video traffic. Support for Auto Surveillance VLAN ensures stable operation of video applications, high-quality transmission and maximum protection of multimedia traffic, regardless of the overall network load.
Simple Troubleshooting
The DIS-200G-12S supports cable diagnostics and Loopback Detection, which allows network administrators to quickly and easily find and fix network problems. Loopback Detection is used to detect loops and automatically turn off the port on which the loop is detected. The cable diagnosis function is used to determine the status of the twisted pair, as well as the type of cable fault.
1 Available in future versions of the software.
2 Not included in delivery.