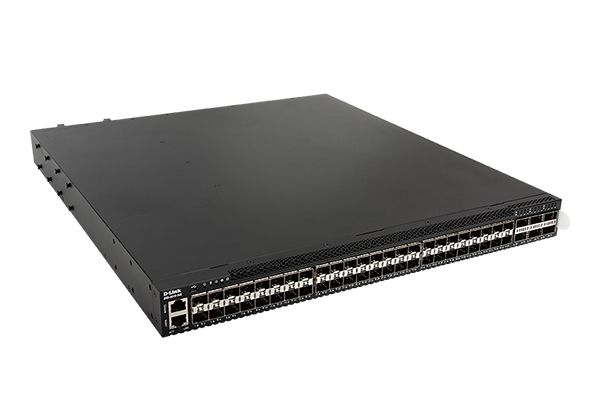 Tanımlama
Tanımlama
The D-Link DXS-3610-54S Layer 3 Stackable 10G Managed Switch is a new, compact, high-performance switch that features ultra low latency, with 10G Ethernet switching and routing. The 1U height and front-to-back airflow make the DXS-3610-54S suitable for Enterprise and campus aggregation network environments. The DXS-3610-54S is equipped with 48 fixed 10G SFP+ ports and 6 fixed 100G QSFP28 ports. 100G ports allow for either uplink or stacking configurations, depending on your system's needs.
Performance, Availability and Redundancy
The DXS-3610-54S boasts high-performance 10G Ethernet switching capacity of up to 2.16 Tbps with forwarding rates of up to 1607 Mpps. This switch  features hot-swappable power supplies and fan trays to provide a redundant, high-availability architecture. The modular power design allows network administrators to use either AC or DC power sources for maximum deployment flexibility. When using two power modules, the power load is distributed, extending the lifetime of the modules. The DXS-3610-54S also features a modular fan back-up design, providing n+1 redundancy for the system. Safeguarding against fan failure or rising temperatures, smart fans automatically adjust their speed.
Flexible Software
The Standard Image (SI) features a wide range of Layer 2, VLAN, multicasting, Quality of Service (QoS), security, data center, and static routing protocols including RIP, VRRP and OSPF. The Enhanced Image (EI) features comprehensive IPv4/v6 routing including BGP and L3 multicasting features such as IGMP, MLD, PIM-DM, SM, SDM, SSM, and DVMRP. The Enhanced Image (EI) also supports L2/L3 MPLS VPN, which enables the DXS-3610-54S to be deployed as the core router of an enterprise environment, or as an aggregation switch in an MPLS environment. The Switch Resource Management (SRM) feature allows the hardware table size to be dynamically adjusted, so that switch functions can be optimized based on the use of the switch. There are 3 modes: IP Mode, LAN Mode, and L2 VPN Mode. These modes modify the size of the Layer 2 and 3 tables for optimum efficiency.
Software-Defined Networking
By supporting software-defined networking (SDN), the DXS-3610-54S gives network operators more flexibility and control by providing new ways to design, build and manage their networks. As a streamlined approach to network management, SDN separates the control plane from the data plane, where the control plane manages infrastructure by utilizing open protocols such as OpenFlow. The DXS-3610-54S with SDN can help build centrally managed agile networks, abstract cloud resources and simplify network operations.
Switch and Link Failover
In addition to traditional Spanning Tree Protocol (STP), Rapid Spanning Tree Protocol (RSTP), and Multiple Spanning Tree Protocol (MSTP), the DXS-3610-54S also supports advanced Ethernet failover redundancy technologies, such as Ethernet Ring Protection Switching (ERPS) and FlexLink. ERPS provides millisecond-level failover in a ring topology, while FlexLink offers link failover on designated switch ports, providing link redundancy without STP or LBD.
Advanced Security and Reliability
The DXS-3610-54S provides a complete set of security features, including multi-layer Access Control Lists (ACLs) and 802.1X user authentication via TACACS+ and RADIUS. The DXS-3610-54S also offers extensive VLAN support, including GVRP and 802.1Q VLAN to enhance security and performance. A robust set of QoS features help ensure that critical network services such as Voice over IP and video conferences are given high priority on the network. The D-Link Safeguard Engine increases the switches' reliability, serviceability, and availability by preventing traffic flooding caused by malicious attacks.
Versatile Management
The DXS-3610-54S utilizes the D-Link Network Assistant (DNA) utility, an industry-standard CLI with an intuitive web-based management interface that enables administrators to set up and remotely manage their networks. Support for SNMP allows centralized management of a large number of devices and out-of-band management is available via a dedicated console port. The DXS-3610-54S can be managed through the RJ-45 console port, without any additional connections, while the USB Type A port can connect to storage devices to save logs, configuration settings, and firmware images. The DHCP auto-configuration and auto-image features enable deployment of multiple switches automatically, saving costs for mass deployment. The DXS-3610-54S employs essential OpenFlow 1.3 features, enabling the switch to be managed through an OpenFlow controller.