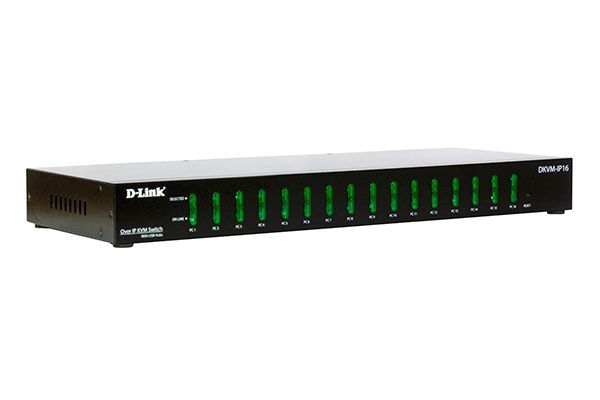 DKVM-IP16
16-Port KVM Over IP Switch with VGA and USB Ports
Nereden Alınır
Tanımlama
The D-Link DKVM-IP16 16-port KVM Over IP switch with VGA ports, four USB ports and one 10/100Base-TX port allows you to manage up to sixteen computers locally with one monitor, one keyboard and one mouse or remotely through the Internet. This KVM Over IP switch supports hot-plugging - you don't need to turn your computers off before installing the device. The DKVM-IP16 allows you to switch between computers quickly and easily using the buttons located on the front panel, keyboard hot keys, OSD menu or Web-based GUI. The DKVM-IP16 supports autoscan mode, which provides automatic switching to the next PC after the scan interval expires. Two USB ports can be used for connecting external devices, for example, USB-disk. This KVM Over IP switch can be mounted in a 19-inch rack with the included mounting brackets.
Genel Özellikler
Hardware
Ethernet port
• 10/100Base-TX port
LEDs
• 16 port LEDs for connected PCs (Selected/Online)
• Link/Speed (per Ethernet port)
Buttons
• 16 port switching buttons
• Reset button
Enclosure
• Metal, 19-inch rack mountable
Ports for connecting management console
• Monitor (local): VGA
• Keyboard (local): USB Type-A
• Mouse (local): USB Type-A
Ports for connecting KVM cables
• 16 VGA ports
KVM cable connectors for connecting PC
• Video: 15-pin HDB connector (VGA)
• Keyboard/Mouse: USB Type-A connector
Ports for connecting external devices
• 2 USB Type-A ports
General Specifications
Connected PCs
• Up to 16
Autoscan mode
• Yes
Sound notification of switching
• Yes
Remote management via IP address
• Web-based GUI
Switching between PCs
• Switching buttons on the front panel
• Hot keys
• OSD menu
• Web-based GUI
Functionality
• Managing several remote servers
• Access to BIOS
• Lack of influence on the performance
• Automatic selection of the optimal video resolution
Max. resolution for local and remote console
• 1920x1440
Physical Parameters
Weight
• 6 kg
Dimensions (L x W x H)
• 429 x 166 x 45 mm
Environmental Conditions
Power Supply
• 12 V DC power adapter
Temperature
• Operating: -50 to 80 °C
• Storage: -20 to 60 °C
Humidity
• 0% to 80% non-condensing
Compatible KVM cables*
• DKVM-CU/B
• DKVM-CU3/B
• DKVM-CU5/B
NOTE! The KVM cables of hardware revision B are compatible only with the DKVM-IP16 KVM-over-IP switch of hardware revision A.
Sipariş Bilgisi
DKVM-IP16/A2A  16-Port KVM Over IP Switch with VGA and USB Ports