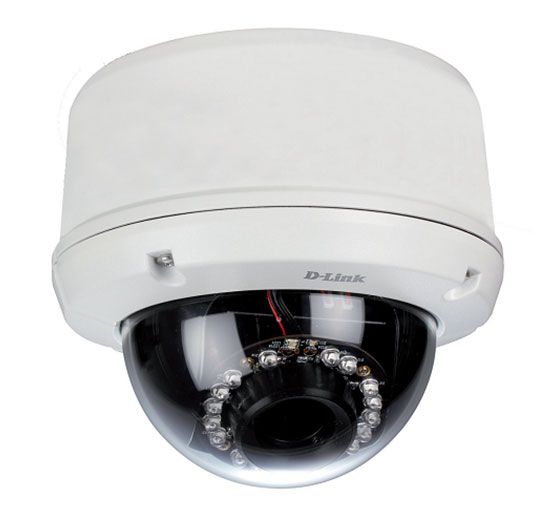 DCS-6510
Day & Night Vandal-Proof Fixed Dome Network Camera
Nereden Alınır
Tanımlama
Round-The-Clock Surveillance
The D-Link Fixed Vandal Dome Network Camera (DCS-6510) is a fixed vandal proof dome camera with day and night functionality and Power over Ethernet. It's ideal for use in places where a surveillance camera would require protection from tampering or vandalism. The DCS-6510 uses a CMOS sensor with low lux sensitivity to deliver truly superior image quality in all lighting conditions. A built-in Infrared Cut Removable (ICR) filter allows the camera to capture images in both regular and low light conditions. The built-in Infrared (IR) illuminators enable video capture up to 60 feet in total darkness. The DCS-6510 is equipped with a BNC video connector as well as one digital input and one digital output for integration with external devices.
High-Quality Video Feeds
To maximize bandwidth efficiency and improve image quality, the DCS-6510 provides real-time video compression in H.264, MPEG4 and MJPEG formats. Furthermore, the DCS-6510 is capable of streaming 3 separate video profiles simultaneously up to 30 fps at 640 x 480 (VGA) resolution. Stream one video at maximum resolution and frame rate to record directly onto storage, and use the other two streams with lower resolution and frame rate settings for monitoring over a WAN or 3G enabled mobile device.
Flexible Installation
Power over Ethernet (PoE) connectivity allows for discreet installation at any location. This camera's built-in 802.3af compliant PoE module eases the installation process by reducing the need to drill holes, lay additional cabling, or provide power at the camera's location. In addition, the 10/100BASE-TX Ethernet port seamlessly connects to the local network or to the Internet via a gateway router. The camera can be viewed from anywhere on the network.
Mechanical IR Cut Filter (ICR) for Continuous Monitoring
The IR Cut Filter can be manually applied over the network, or set to automatically adjust based on lighting conditions. This feature enables the camera to capture crisp color images during the day, and grayscale images in little or no light at all.
Convenient Management with D-ViewCam
The included D-Link D-ViewCam™ is sophisticated software which enables you to manage up to 32 network cameras, set e-mail alert notifications, create recording schedules, and trigger motion detection to record directly to your hard drive. D-ViewCam™ also allows you to upload a floor plan of your business, and create a realistic layout according to the locations of your cameras, further simplifying the management process.
Genel Özellikler
General Specifications
• 1/4" CMOS Sensor
• DC Iris varifocal 3.7-12 mm, F 1.4-2.8
• Mechanical IR-Cut Filter: Auto/Schedule/Manual
• 3A Control: AGC, AWB, AES
• Built-in IR LED (60 feet)
IR LED
20 meter illumination distance with 12 LEDs and light sensor
Camera View Angle
• Vertical: 56.9° (W) ~ 17.1° (T)
• Horizontal: 76.9° (W) ~ 22.7° (T)
• Diagonal: 97.6° (W) ~ 28.4° (T)
3-Axis Angle
• Vertical: 120°
• Horizontal: 76.9° (W) ~ 22.7° (T)
• Diagonal: 97.6° (W) ~ 28.4° (T)
Network Protocol
IPv4, DHCP, ARP, DNS, TCP/IP, DDNS (D-Link), HTTP, HTTPS, UPnP™ Port Forwarding, Samba, SMTP, PPPoE, NTP (D-Link), FTP, RTP, RTSP, UDP, RTCP, ICMP, 3GPP
Built-in Network Interface
10/100BASE-TX Fast Ethernet
Video Codec
• H.264
• MPEG-4
• MJPEG
• JPEG for still images
Video Features
• Adjustable image size, quality and bit rate
• 3 configurable privacy masks
• Time stamp and text overlays
• Flip & mirror
Audio Codec
• G.726
• G.711
• GSM
Sipariş Bilgisi
DCS-6510 Day & Night Vandal-Proof Fixed Dome Network Camera