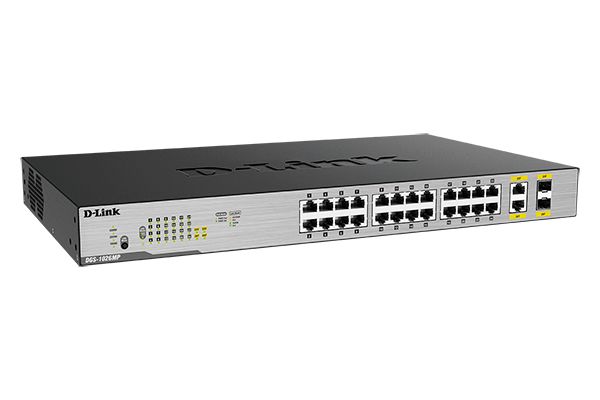 Tanımlama
The D-Link DGS-1026MP 26-Port Unmanaged Gigabit PoE Switch enables users to easily connect and power PoE-capable devices such as wireless access points (APs), IP cameras, and IP phones. The DGS-1026MP can also be used to connect other Ethernet devices such as computers, printers, and a Network Attached Storage (NAS) to fit any type of network application.
Power over Ethernet
The DGS-1026MP features 24 10/100/1000BASE-T ports that support the IEEE 802.3at PoE standard. Each of the 24 PoE ports can supply up to 30 W, for a total PoE budget of 370 W, allowing users to attach multiple IEEE 802.3at-compliant devices to the DGS-1026MP without requiring additional power sources. Power over Ethernet is especially suitable for powering devices that are too far away from power outlets, or for minimizing the clutter of extra cables. The PoE usage LEDs further provide real-time feedback on the current PoE power usage on the network and helps plan out the PoE network budget, preventing PoE overloading problems.
Expand Your Network
The addition of two Gigabit combo uplink ports means businesses can increase their network bandwidth using the speed of Gigabit Ethernet while offering redundancy so voice and surveillance data are transferred reliably. The combo port design increases connection flexibility by offering two Gigabit copper or fiber connections, giving administrators more options for expanding the network.
Energy Efficient
To help small businesses save on operating costs, the DGS-1026MP supports IEEE 802.3az Energy Efficient Ethernet (EEE). This feature actively monitors network traffic and automatically puts ports that are not being used into hibernation, powering them on only when they are required.
Hassle-Free Setup
The DGS-1026MP is a plug-and-play device that requires no configuration, so setup is simple and hassle-free. Simply connect the switch to the network and then connect multiple computers, share files, and make VoIP calls across the network. Support for Auto MDI/MDI-X on all ports eliminates the need for crossover cables when connecting to another switch or hub. Auto-negotiation on each port senses the link speed of a network device and intelligently adjusts for compatibility and optimal performance. Combining the convenience of PoE, fast performance, reliability, and ease of use, the DGS-1026MP 26-Port Unmanaged Gigabit PoE Switch is the ideal choice for flexibly expanding an existing network with both PoE and non-PoE devices.
Genel Özellikler
Number of Ports
• 24 x 10/100/1000 Mbps ports
• 2 x 10/100/1000Base-T/SFP combo ports
Standards
• IEEE 802.3 10Base-T
• IEEE 802.3u 100Base-TX
• IEEE 802.3ab 1000Base-T
• IEEE 802.3z 1000Base-X
• IEEE 802.3x Flow Control
• IEEE 802.3az Energy-Efficient Ethernet (EEE)
Switching Capacity
• 52 Gbps switching fabric
64 Byte Max. Forwarding Rate
• 38.69 Mpps
Media Interface Exchange
• Auto MDI/MDI-X
Transmission Method
• Store-and-forward
MAC Address Table
• 8K (8192) entries per device
Packet Buffer Memory
• 512 KB per device
PoE Standards
• IEEE 802.3at
• IEEE 802.3af
PoE Ports
• Ports 1 to 24
PoE Budget
• 370 W
• Up to 30 W per port
LEDs
Per Unit
• Power
• PoE Power Budget
Per Port
• Activity/Link
• Speed
Per PoE Port
• Power Fail
• Power OK
Physical Parameters
Fan
• 2 x Smart fans
Dimensions
• 440 x 267 x 44 mm
Weight
• 3.95 kg
Power Input
• AC Input: 100 to 240 V AC, 50/60 Hz
Power Consumption
Maximum:
• 463.37 W (PoE on)
• 28.86 W (PoE off)
Standby:
• 100 V: 18.45 W
• 240 V: 18.28 W
Temperature
• Operating: 0 to 50 °C
• Storage: -40 to 70 °C
Humidity
• Operating: 10% to 90% non-condensing
• Storage: 5% to 90% non-condensing
MTBF
• 495,630 hours
Heat Dissipation
• 1,582 BTU/h
Certifications
• FCC
• BSMI
• CE
Safety
• CB
• UL
• LVD
Sipariş Bilgisi
DGS-1026MP  26-Port Unmanaged Gigabit PoE Switch