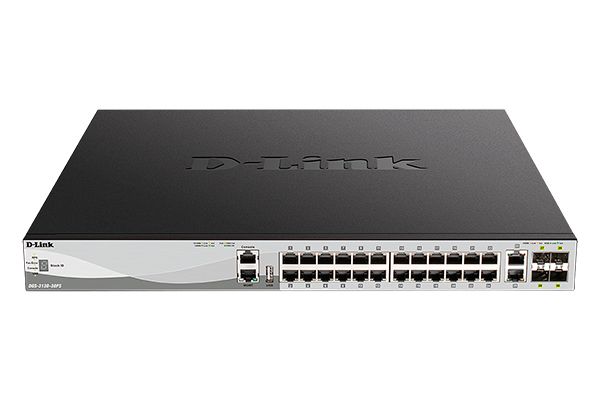 Tanımlama
The DGS-3130 Series switches are Lite Layer 3 Stackable Managed Switches designed to connect end-users in a secure enterprise or metro Ethernet access network. These switches support multicast, and enhanced security, making them an ideal Gigabit access layer solution. The DGS-3130-30PS provides 24 10/100/1000Base-T PoE ports, 2 10GBase-T ports and 4 10G SFP+ port. Each 10/100/1000Base-T port on the DGS-3130-30PS supports the 802.3af and 802.3at PoE standards. The default power budget is 370 watts and can be expanded to 740 watts with the DPS-700 RPS*. The switches are also equipped with an USB 2.0 port, allowing the user to boot images and upload configuration files directly from, as well as conveniently save syslog files onto a USB 2.0 storage device.
Enhanced Network Reliability
The DGS-3130 Series targets enterprises and metro Ethernet applications, and customers who require a high level of network security and maximum uptime. All the models in the DGS-3130 Series support an external redundant power supply** to ensure continued operation. They also include reliability features, such as 802.1D Spanning Tree (STP), 802.1w Rapid Spanning Tree (RSTP), and 802.1s Multiple Spanning Tree (MSTP), Loopback Detection (LBD), and Broadcast Storm Control, that enhances network resilience. G.8032 Ethernet Ring Protection Switching (ERPS) minimizes the recovery time to 50 ms. For load sharing and redundancy backup in a switch cascading/server attachment configuration, the DGS-3130 Series provides dynamic 802.3ad Link Aggregation Port Trunking.
Comprehensive Security
The DGS-3130 Series provides users with the latest security features such as Multi-layer and Packet Content Access Control Lists (ACL), Storm Control, and IP-MAC-Port Binding (IMPB) with DHCP Snooping. The IP-MAC-Port Binding feature allows administrators to bind a source IP address with an associated MAC and also define the port number to enhance user access control. With the DHCP Snooping feature, the switch automatically learns IP/MAC pairs by snooping DHCP packets and saving them to the IMPB white list.
Easy Access Control Policies
The DGS-3130 Series supports authentication mechanisms such as 802.1X, Web-based Access Control (WAC), and MAC-based Access Control (MAC) for strict access control and easy deployment. After authentication, individual policies such as VLAN membership, QoS policies, and ACL rules can be assigned to each host.
Versatile Traffic Management
The DGS-3130 Series implements a rich set of multilayer QoS/CoS features to ensure that critical network services such as VoIP, video conferencing, IPTV, and IP surveillance are given high priority. Traffic Shaping features guarantee bandwidth for these services when the network is busy. L2 Multicast support enables the DGS-3130 Series to handle growing IPTV applications. Host-based IGMP/MLD Snooping allows multiple multicast subscribers per physical interface and ISM VLAN to send multicast streams in a multicast VLAN to save bandwidth and to provide better security to the backbone network. The ISM VLAN profiles allow users to bind/replace the pre-defined multicast registration information to subscriber ports quickly and easily.
High Availability and Flexibility
The DGS-3130 Series allows multiple switches to be combined to form a single physical or virtual stack. This increases redundancy over multiple physical units, simplifies management, and provides a single IP address to manage all members in the stack. Up to 9 switches can be combined using DACs/Fibers to make up to 300 Gigabit Ethernet ports available, allowing switching capacity to be increased with demand.
6 kV Surge Protection
The DGS-3130 Series features built-in 6 kV surge protection on all PoE and non-PoE Gigabit Ethernet access ports, and requires no external surge protection equipment. This effectively protects the switches against sudden electrical surges caused events such as lightning strikes or unstable electrical current. Built-in 6 kV surge protection significantly reduces the chances of equipment being damaged from electrical surges, and effectively lowers maintenance costs by minimizing the need for expensive equipment repairs or replacement.
Power over Ethernet (PoE) Support
The DGS-3130-30PS features Power over Ethernet, which allows PoE-powered devices to be powered by the switch through a standard Ethernet cable. Both models support the IEEE 802.3af PoE and IEEE 802.3at PoE+ standards, providing up to 30 W of power per port. PoE effectively reduces deployment time for PoE devices such as IP cameras, VoIP phones, and access points, and eliminates the cost for additional electrical cabling.
Perpetual PoE and Fast PoE are also available with the DGS-3130-30PS. Perpetual PoE delivers uninterrupted power to connected powered devices (PD) even when the power sourcing equipment (PSE) switch is booting. Fast PoE enables the switch to supply power to connected endpoint devices in a relatively short time without waiting for the operating system to boot up.
The DGS-3130-30PS features a 370 W PoE power budget which can be increased to 740 W when outfitted with the DPS-700 redundant power supply, allowing the switches to power even more devices. Additionally, an extended Link Layer Discovery Protocol (LLDP) automatically negotiates and manages the power feed to IEEE 802.3at PoE+ powered devices for optimal power distribution.
* RPS is not included in the package contents.
Sipariş Bilgisi
| | |
| --- | --- |
| DGS-3130-30PS/B1A | 24 10/100/1000Base-T PoE ports, 2 10GBase-T ports and 4 10G SFP+ port L3 Stackable Managed Switch |