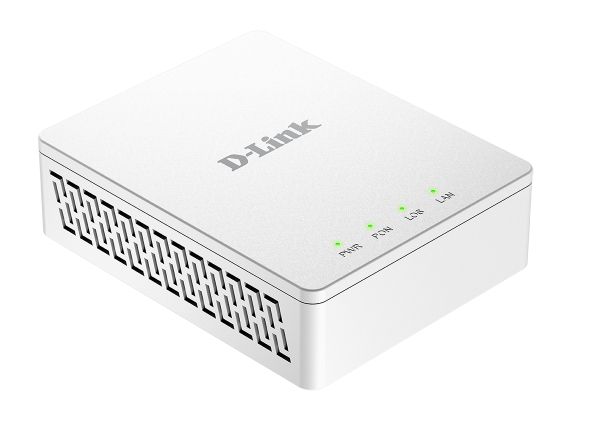 Tanımlama
The DPN-101G GPON ONT Bridge is a GPON (Gigabit-capable Passive Optical Network) ONT (Optical Network Terminal) device that provides a Gigabit connection for home and office environments. The key advantage of GPON technology is the extraordinary bandwidth of its channels. It delivers up to 2.4 Gbps speeds over optical fiber wiring, and enables next-generation simultaneous voice, video, and data services including high-speed Internet access, video streaming, and instant messaging. The DPN-101G is an effective, easy-to-deploy device that can be used as part of a high-performance Internet solution.
Leverage Your Fiber with Bridge Mode
The DPN-101G GPON ONT Bridge provides an optical line connection to a GPON Optical Line Terminal (OLT). When the GPON ONT Bridge is connected with an OLT, it can reach up to an 1:128 split ratio with a network radius of up to 20 km and a PON transmission rate of 2.4 Gbps downlink and 1.2 Gbps uplink.
Connectivity Bundled into a Pocket Sized Form
The DPN-101G is perfect for discrete deployment in a pocket sized form. The integrated SC/APC PON port connects users to a public high-bandwidth network, while also allowing them to directly connect non-wireless computers and other network devices via network cables with its 10/100/1000 Gigabit LAN Port.
OMCI (ONT Management and Control Interface)
OMCI, short for ONT Management Control Interface, is a vital component to the operation of GPON (Gigabit Passive Optical Network). OMCI allows service providers to create a variety of applications and services utilizing the PON (Passive Optical Network), including voice, video and data, and features inherent flexibility. The D-Link DPN-101G GPON ONT Bridge lets you manage your device through a standard OMCI defined as by the ITU-T, this includes configuration, alarm, performance monitoring, fault isolation and security management, and private OMCI.
Genel Özellikler
Device Interfaces
• One SC/APC PON port
• One 10/100/1000 Gigabit LAN port
LEDs
• Power
• PON
• LOS
• LAN
Buttons
• Reset button
PON Interface
• Uplink 1.2 Gbps
• Downlink 2.4 Gbps
• Network covering radius: 20 km
• Hi-sensible optical receiver: ≤-28 dBm
• Radiation power: 0.5 ~5 dBm
• SC/APC
• ONU authentication mechanism
Standards
• IEEE 802.1D, Spanning Tree Protocol
• ITU-T G.984/G.988
• ITU-T Y.1291
Functionality
EPON Encryption
• AES128 algorithm encryption MAC/Loid/Hybrid authentication
Security
• MAC filter
Management
• Management modes including HTTP, SNMP and TELNET
• Local or server syslog
• Software upgrade through TFTP, WEB and OMCI
Physical
Dimensions
• 90 x 72 x 26 mm (3.54 x 2.83 x 1.02 in)
Weight
• 70 grams (0.15 lbs)
Power
• Input: 100 ~ 240 V
• Output: 12 V / 0.5 A
Temperature
• Operating: 0 to 45 °C (32 to 113 °F)
• Storage: -40 to 80 °C (-40 to 176 °F)
Humidity
• 10 % to 85 % non-condensing
Sipariş Bilgisi
DPN-101G/RU/R1A   GPON ONT Bridge