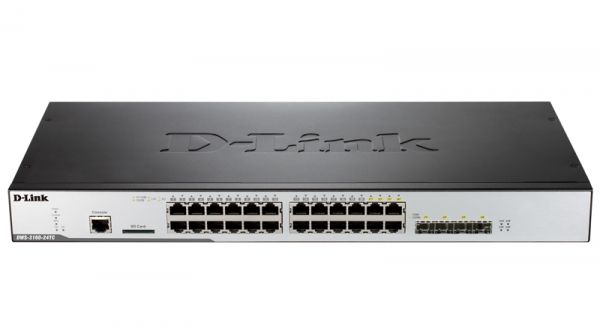 DWS-3160-24TC
Proje
Unified Switch to manage the access points level 2 + 20-port 10/100/1000Base-T + 4 Combo 10/100/1000Base-T/SFP, supports up to 48 access points
Nereden Alınır
Tanımlama
A series of switches DWS-3160 includes a unified wired / wireless Gigabit Ethernet switches level 2 +. DWS-3160 is the ideal solution for the deployment of networks for medium and large enterprises and service providers. Switch provides centralized management of devices in a wireless network. With the ability to control 48 standardized wireless access points D-Link (number of managed APs default - 12 can be increased to 48 by using additional licenses) and to access points 192 in the cluster switches, DWS-3160 is used as a wireless controller base / wireless or Gigabit Layer 2 + switch for end-users, providing easy integration with existing network infrastructure.
Simple operation
DWS-3160 supports centralized management of WLAN, thus eliminating a separate setting for each access point. The administrator assigns a profile unified access point D-Link and configuration corresponding to the profile, apply to the access point automatically. Besides, the new version of the software can be installed on all the access points simultaneously, which greatly simplifies the updating process.
Besides functioning as a control device in a wireless switching, DWS-3160 can also be used as a Layer 2 + switch with advanced features, including support for dynamic routing packets (RIPv1/v2), security features ACL, multi-level quality of service (QoS), VLAN, Multicast Snooping. Moreover, some DWS-3160 switches can be combined in a cluster, enabling administrators to configure all the switches using a single switch "Master." In a cluster, you can manage 192 access points.This greatly simplifies management and reduces the effort required to service while scaling the network.
Network protection
DWS-3160 supports the latest feature Wireless Intrusion Detection System (WIDS), designed to detect rogue access points and unauthorized clients, as well as the different wireless network security threats. With WIDS, administrators can detect various threats and use the scanning frequency channels to review the wireless network in order to prevent any potential security threats.
When combined with standardized wireless access points D-Link can be configured virtual access points, and to manage them, and the administrator can assign different access rights to users. In addition to using WPA and WPA2, and an additional level of protection provided by the adaptive portal, so that only authorized users can gain access to the wireless network.
DWS-3160 uses Access Control Lists (ACL) to control by setting a few simple rules. Through the use of other advanced security features such as 802.1X network access control and protection against attacks DoS DWS-3160 provides a robust and centralized protection and maximum network reliability.
Network Resiliency
Location of access points in close proximity to each other can cause interference. DWS-3160 monitors the use of radio frequency spectrum and automatically assigns the optimal channel for each access point, which significantly reduces noise and allows administrators to set access point at a small distance from each other.
If the same channel has several access points located at a short distance from each other, for noise reduction, DWS-3160 reduces the transmit power of the access points. Further, when for any reason the network is not already present is the number of access points, the transmitter power is increased to increase the coverage area.
In order to avoid overloading the bandwidth switch DWS-3160 rejects the connection of new customers to the access point.The load is distributed between adjacent access points. This ensures optimal load balancing and network performance.
Mobility Without Borders
Wireless clients can take advantage of the "seamless" and uninterrupted roaming between access points managed by DWS-3160 switch, even if they are not in the same subnet. Since the DWS-3160 uses a variety of mechanisms, such as pre-authentication and key-caching, wireless clients can freely move within the network without re-authentication. Thus, the owners of tablet computers, smart phones and netbooks get a stable and reliable connection.
License Upgrade
By default, the DWS-3160 switch can control 12 unified access points. This amount can be increased to 48 AT. If administrators want to connect to the network more access points, they can purchase an updated license. There are two types of licenses: Update 12 TDs and 24 TD update.
Choosing a license is not difficult - just select the model that corresponds to the switch DWS-3160 (standard or PoE), and number of access points to upgrade.
Genel Özellikler
MTBF
561.829 h
Acoustics
• Below 30 ° C <46,3 dB
• Above 30 ° C <33,0 dB
Heat release
128,6 BTU / hour
Measurements
440 x 210 x 44 mm

Weight
2.55 kg
Operating temperature
0 to 50 C
Storage temperature
-40 To 70 C
Operating Humidity
From 10% to 90% RH
Humidity
From 5% to 90% RH
Electromagnetic safety
• FCC Class A
• CE
• ICES-003
• C-Tick
• VCCI
Safety
• UL / cUL
• CB