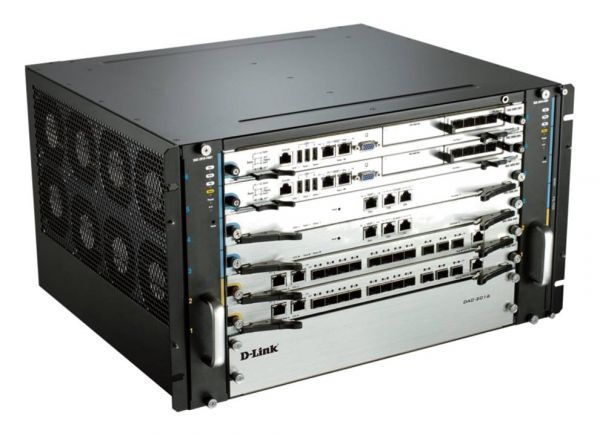 DAC-2016
Yeni
2048 lisansı ile 2 x 10/100/1000 RJ-45 and 48 x 100/1000 SFP ports and 2 x 10G SFP+ portlu Kablosuz Erişim Kontrol Cihazı
Nereden Alınır
Tanımlama
The D-Link DAC-2016 Wireless Controller is a centralized Wireless LAN manager designed
specifically for education, hospitality, and medium-to-large enterprises. With the ability
to manage up to 64 (upgradable to 4096) wireless access points and up to a maximum of
4096 wireless access points in a controller cluster, the DAC-2016 is a cost-effective mobility
solution suitable for medium to large scale deployments. Features such as auto-managed AP
discovery and single-point management allow users to achieve enterprise class
networking without the burden of executing massive and complex configurations. The
guest account generation function manages guest users' bandwidth and accessibility to
network resources. With a robust and comprehensive security detection system, the
DAC-2016 manages associated APs by blocking potential attacks from unauthorized users
and appliances, which is particularly crucial in wireless environments.
Simplified Deployment and Management
Using the Setup Wizard, the DAC-2016 can be configured for any network in minutes.
Centralized management of remote access points via a simple interface provides the ability
to automatically discover compatible D-Link Wireless Access Points, add them into the
managed access point list, and set one-time configuration dispatch settings for them.
The network administrator can use the controller clustering feature to easily log into one
wireless controller and push essential configurations to others within the group.
The dashboard displays real-time monitoring of access points and associated client stations to
manage network resources efficiently. Furthermore, the graphical widgets on the dashboard
can be customized to provide various client and network statistics at a glance. Combined
with system alarms and statistical reports on managed access points, the DAC-2016 is the
one-stop platform that allows administrators to effectively optimize and manage their
network environment.
Guest Control and Management
The DAC-2016 integrates Hotspot guest management features that deliver
a secure and easy solution for managing access to the Internet by
temporary users in a private or public network. Each temporary Hotspot
account, or the issued ticket, is accompanied by time-limited or volumelimited
Internet access privileges. The Hotspot Guest Management
service allows batch generation of temporary accounts, and also
provides account details to the guest via printout. Furthermore, it
can monitor or extend the usage on the specific account manually after
account creation and activation. By connecting with payment gateways to
authorized credit card or electronic payments, guests can easily purchase
the service online.
Robust and Optimized Network
The DAC-2016 offers self-organizing, self-optimizing, and self-healing
network capabilities to increase the stability of the entire wireless
network. Maximum N+1 wireless controller redundancy and AP
provisioning automatically switches the AP management from the failed
controller to the backup in emergency scenarios, giving your network the
reliability it needs. Featuring regular radio scanning and performance
analysis, the DAC-2016 automatically tunes radio channels and power
from time to time to avoid interference and keep the wireless network
optimized. To make up for a sudden RF signal vacuum created by a
"dead" access point, the DAC-2016 increases the transmission output
power of neighboring access points to expand RF coverage for a reliable,
high performance network.
Comprehensive Security
The DAC-2016 provides a comprehensive wireless security solution for easy
integration into any network. The Wireless Intrusion Detection System
(WIDS) featured in the DAC-2016 detects rogue access points, rogue
clients, and can anticipate wireless threats, preventing potential
breaches and illegal access before any damage is done to the network. In
addition to fundamental wireless security, the Captive Portal feature allows
you to block clients from accessing the network until their identities are
verified. The Captive Portal authentication servers cover local, RADIUS,
LDAP, POP3 and Window Active Directory. This double-layer
authentication and authorization establish a robust security fence to
avoid attacks from internal networks.
High Scalability, Availability, and Flexibility
To address today's fast-changing corporate structures, the DAC-2016
Wireless Controller offers flexible optional features: the administrator
can purchase D-Link's Business Wireless Plus license packs to
upgrade the DAC-2016's capabilities. D-Link offers a range of
DAC-2016 managed AP license pack upgrades to increase the number of
manageable access points, depending on need. With the DAC-2016, as
business grows, so does its wireless network. Advanced Telecommunications
Computing Architecture built hardwares and TELCO level solutions provides.