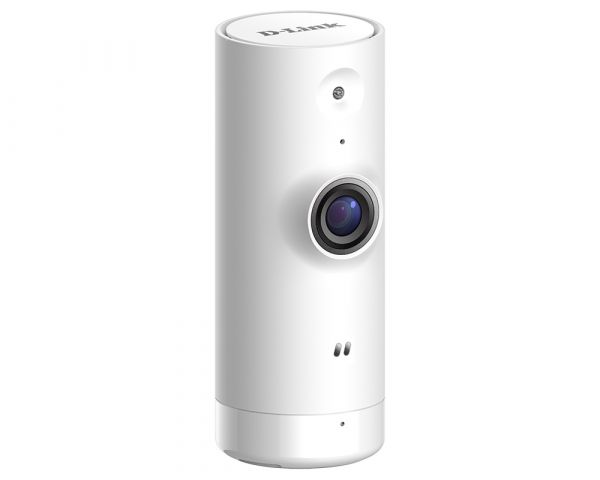 Tanımlama
Mini HD Wi-Fi Camera
DCS-8000LH
Meet the Mini HD Wi-Fi Camera.
Your second set of eyes around the home or office.
Home security in high definition.
Crisp HD 720p video gives you a clear view of what's going on at home. See more of your faces and places -- it's home monitoring with an eye for detail.
With a 120° wide angle lens, you can see more of your rooms, pets and kids.
Night Vision
See your home, even in complete darkness, so that you know what's happening at home 24/7.
Simple Setup
Setting up the camera quick and easy with the mydlink Lite app. Simply download and install the app on your smartphone or tablet and follow the step-by-step instructions. You can also set up the camera using Bluetooth.
Peace of Mind, Wherever You Are with mydlink
With the mydlink app, you can easily monitor your home and look after what's important to you, while you are away. Receive notifications and check-in on those you love at any time. You can even record precious moments directly to the cloud onto your phone or through the mydlink app.
Good things come in small packages.
Despite its small size, the Mini HD Wi-Fi Camera has all the features you need for monitoring your home.
Easier than ever to set up.
Get your DCS-8000LH set up in minutes with Bluetooth 4.0, and place it just about anywhere in your home. Easily add cameras to cover new spaces and new additions.
What's in the Box
HIGHLIGHTS
Functions & Features
Camera
Hardware Profile
One-megapixel progressive CMOS sensor
Minimum object distance: 50 cm
Lens focal length: 2.45 mm ± 3%
Aperture: F2.4
Built-in Infrared-Cut Removable (ICR) Filter
Built-in microphone
Angle of view:

Horizontal: 112°
Vertical: 54°
Diagonal: 120°

4x Digital zoom
5 metre IR illumination distance
Image Features
Time stamp and text overlays
Configurable sound detection level
Configurable motion detection windows
Configurable brightness
Video Compression
Simultaneous H.264 format compression
JPEG for still images
Video Resolution
1280 x 720 at up to 30 fps
Audio Support
Network
Connectivity
2.4 GHz: 802.11n/g wireless with WPA/WPA2 encryption
Network Protocols
IPv4, ARP, TCP, UDP, ICMP
NTP client (D-Link)
DNS client
RTP/RTSP/RTCP
Bonjour
Features
Event Management
Motion detection
Sound detection
Video/Image Recording
Manually taken snapshots & video clips are saved to mobile device1
Browser  Support
Windows OS running 32 bit versions of Internet Explorer 9, Chrome 42 Firefox 12-51 and 52 ESR, or higher
Mac OS running Safari 9, Chrome 42 Firefox 12-51 and 52 ESR, or higher
Mobile Support
mydlink Lite and mydlink Plus apps for iOS and Android devices2,3
Physical
Environment
Weight
Power Adapter
Input: 100 to 240 V AC, 50/60 Hz
Output: 5 V DC 1 A (Micro-USB)
Power Consumption
Temperature      
Operating: 32 to 104 °F (0 to 40 °C)
Storage: -4 to 158 °F (-20 to 70 °C)
Humidity
Operating: 20% to 80% non-condensing    
Certifications
Dimensions (L x W x H)
Package Contents
DCS-8000LH Mini HD Wi-Fi Camera
microUSB power adapter
Quick install guide
| | |
| --- | --- |
| Wireless Range Extender Built In : | No |
| Built-in Speaker : | No |
| Motion Detection : | Yes |
| Sound Detection : | Yes |
| Built-in Microphone : | Yes |
| Dimensions (Size) : | 37 x 38.1 x 95 mm |
| Wireless Connectivity : | 802.11n |
| Indoor / Outdoor : | Indoor |
| Video Compression : | H.264 |
| Night Vision Range : | B&W 5m |
| Camera Type : | 120 degree view |
| HomeKit (Apple) Enabled : | No |
| Maximum Video Resolution : | 1280 x 720 @ 30fps |
| Warranty : | 1-Year Limited Warranty |
| Night Vision : | Yes |
| Motorised Pan / Tilt : | No |
| ePTZ : | No |
| MicroSD Card Slot : | No |
| Digital Zoom : | 4x |
| Two-way Audio : | No |
| Email Notification : | Yes |
| Ethernet Port : | No |
HIGHLIGHTS
Functions & Features
Camera
Hardware Profile
One-megapixel progressive CMOS sensor
Minimum object distance: 50 cm
Lens focal length: 2.45 mm ± 3%
Aperture: F2.4
Built-in Infrared-Cut Removable (ICR) Filter
Built-in microphone
Angle of view:

Horizontal: 112°
Vertical: 54°
Diagonal: 120°

4x Digital zoom
5 metre IR illumination distance
Image Features
Time stamp and text overlays
Configurable sound detection level
Configurable motion detection windows
Configurable brightness
Video Compression
Simultaneous H.264 format compression
JPEG for still images
Video Resolution
1280 x 720 at up to 30 fps
Audio Support
Network
Connectivity
2.4 GHz: 802.11n/g wireless with WPA/WPA2 encryption
Network Protocols
IPv4, ARP, TCP, UDP, ICMP
NTP client (D-Link)
DNS client
RTP/RTSP/RTCP
Bonjour
Features
Event Management
Motion detection
Sound detection
Video/Image Recording
Manually taken snapshots & video clips are saved to mobile device1
Browser  Support
Windows OS running 32 bit versions of Internet Explorer 9, Chrome 42 Firefox 12-51 and 52 ESR, or higher
Mac OS running Safari 9, Chrome 42 Firefox 12-51 and 52 ESR, or higher
Mobile Support
mydlink Lite and mydlink Plus apps for iOS and Android devices2,3
Physical
Environment
Weight
Power Adapter
Input: 100 to 240 V AC, 50/60 Hz
Output: 5 V DC 1 A (Micro-USB)
Power Consumption
Temperature      
Operating: 32 to 104 °F (0 to 40 °C)
Storage: -4 to 158 °F (-20 to 70 °C)
Humidity
Operating: 20% to 80% non-condensing    
Certifications
Dimensions (L x W x H)
Package Contents
DCS-8000LH Mini HD Wi-Fi Camera
microUSB power adapter
Quick install guide
| | |
| --- | --- |
| Wireless Range Extender Built In : | No |
| Built-in Speaker : | No |
| Motion Detection : | Yes |
| Sound Detection : | Yes |
| Built-in Microphone : | Yes |
| Dimensions (Size) : | 37 x 38.1 x 95 mm |
| Wireless Connectivity : | 802.11n |
| Indoor / Outdoor : | Indoor |
| Video Compression : | H.264 |
| Night Vision Range : | B&W 5m |
| Camera Type : | 120 degree view |
| HomeKit (Apple) Enabled : | No |
| Maximum Video Resolution : | 1280 x 720 @ 30fps |
| Warranty : | 1-Year Limited Warranty |
| Night Vision : | Yes |
| Motorised Pan / Tilt : | No |
| ePTZ : | No |
| MicroSD Card Slot : | No |
| Digital Zoom : | 4x |
| Two-way Audio : | No |
| Email Notification : | Yes |
| Ethernet Port : | No |