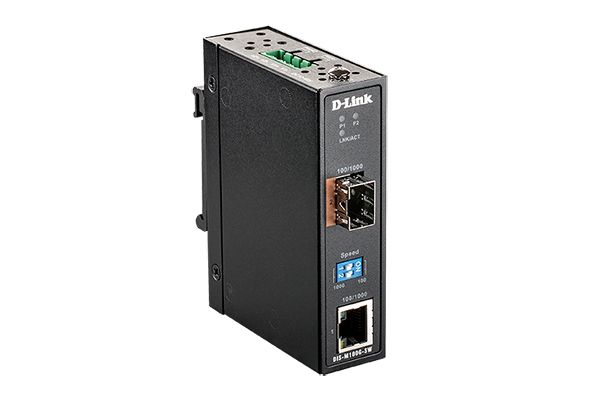 DIS-M100G-SW
Industrial Media Converter with 100/1000Base-T Port and 100/1000Base-X SFP Port
Nereden Alınır
Tanımlama
D-Link's Gigabit Industrial Unmanaged Media Converter turns an Ethernet connection into fiber, allowing for ultra-fast long distance connections. The DIS-M100G-SW media converter is housed in a highly resistant IP30-rated metal casing to protect the media converter from harsh environmental conditions. Meanwhile, the fanless design extends the life of the DIS-M100G-SW
while also being able to operate in a wide temperature range from -40°C up to 70 °C. For increased flexibility, the DIS-M100G-SW can also be mounted on a DIN rail or conveniently mounted on a solid surface wall. In addition, the DIS-M100G-SW supports dual power input which allows for a redundant power supply configuration to make sure the media converter continues to operate in the event of a primary power supply failure.
Extend Your Network
Fiber-optic speeds are critical to success, but twisted-pair cabling can only go so far. Using D-Link's converters you can change a twisted-pair Ethernet connection into a single-mode or multi-mode fiber connection that can go much further. Converters for distances of anywhere from 550 m to 80 km allow you to optimize your selection.
No Wasted Space
Its compact size fits anywhere and doesn't require an entire rack. Measuring just 70 mm wide by 95 mm long by 26.1 mm in depth, with the total volume of one unit just 0.174 liters. This allows for convenient installation wherever it is needed, especially in limited space environments such as telecommunication cabinets or a distribution box.
Plug and Play
The media converters offered by D-Link include several industry-standard technologies that make them easy to operate, like 802.3u/x/ab. Auto-MDI/MDIX and Auto-Negotiation makes sure that your cable connection functions at the highest possible speed while remaining compatible. There's no management software to configure – just simply connect the converter.
Genel Özellikler
Number of Ports
• 1 x 100/1000Base-T port
• 1 x SFP port
Port Functions
• IEEE 802.3u for 100Base-TX and 100Base-FX
• IEEE 802.3ab for 1000Base-T
• IEEE 802.3z for 1000Base-X
• Auto-Negotiation for each port
• Full-Duplex operation at 1000 Mbps
• Half/Full-Duplex operation at 10/100 Mbps
• Back pressure at Half-Duplex operation
• Auto MDI/MDIX
• Wire speed reception and transmission
Media Interface Exchange
• Auto-MDI/MDIX adjustment for all twisted pair ports
Switching Capacity
• 4 Gbps
Max. Forwarding Rate
• 1000 M: 2.976 Mpps
Forwarding Mode
• Store-and-Forward
Physical Parameters
Power Input
• 12 to 48 VDC terminal block dual input
Power Consumption
• 3.6 W
Heat Dissipation
• 12.28 BTU/h
Weight
• 190 g
Dimensions
• 26.1 x 70 x 95 mm
MTBF
• >25 years
Operating Temperature
• -40 to 70 °C
Storage Temperature
• -40 to 85 °C
Operating Humidity
• 5% to 95% RH, non-condensing
Storage Humidity
• 5% to 95% RH, non-condensing
EMI
• CE class A
• FCC class A
Safety
• LVD (EN60950-1)
Environmental Tests
• IEC 60068-2-27 Shock
• IEC 60068-2-32 Freefall
• IEC 60068-2-6 Vibration
Sipariş Bilgisi
DIS-M100G-SW Industrial Media Converter with 100/1000Base-T Port and 100/1000Base-X SFP Port