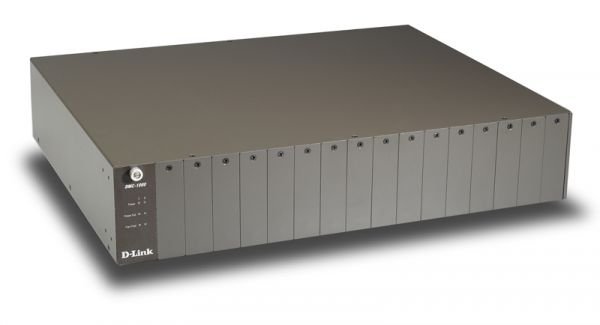 Tanımlama

The DMC Series Media Converters, Management Module, and Chassis are a set of standalone Plug-and-Play media converters that offer increased flexibility when expanding a new or existing network. The DMC Series provides network administrators with a wide variety of solutions to expand networks over a greater distance while maintaining compatibility with existing network equipment.

Meanwhile, the DMC-1000 Media Converter Chassis provides a practical solution for installing multiple media converters in one convenient chassis. This both saves space and optimizes cable placement. The chassis can also be used in conjunction with the DMC-1002 Management Module, which allows administrators to monitor and manage all media converters installed in the DMC-1000 remotely.

Flexible Media Conversion
Media converters convert signals that are transmitted from one type of media to another so that they can be transmitted over a different type of media. This series of media converters converts 10/100/1000 Mbps copper Ethernet to a 100/1000 Mbps fber optic connection. This allows you to expand your network by connecting longer distance, high-speed fber optic cables between devices that are otherwise connected with short distance Ethernet cables, such as Cat. 5 twisted-pair cables.

Dedicated Storage Solution
The DMC Series product lineup includes a wide range of independent media converters as well as the DMC-1000 Media Converter Chassis, capable of housing up to 16 media converters. You can start with a single media converter, equipped with its own housing and AC power supply. As network requirements grow, you can mount the DMC-1000 in your equipment rack and conveniently install all your media converters into the chassis. The housing of each media converter can be easily removed, allowing it to be installed into the chassis. The installed converter module is then powered by the chassis' power supply.

Remote Management
The DMC-1000 chassis can also be equipped with the DMC-1002 Management Module. This module allows administrators to remotely manage and monitor the real-time status of all media converters and power supplies in the chassis, and sends out alarms to alert you of any abnormal situations.
The management module follows industry standards, including SNMP and HTTP, allowing you to monitor and manage the mounted media converters and power supplies from a third-party SNMP Network Management Station (NMS) or via a web browser.


Genel Özellikler

Diagnostic LEDs
• Power
• Fan

Weight
• 7 kg (16.43 lbs)

Power
• Input: 100 to 240 V AC, 50/60 Hz

Temperature
• Operating: 0 to 40 °C (32 to 104 °F)
• Storage: -10 to 50 °C (14 to 122 °F)

Humidity
• Operating: 10% to 90% non-condensing
• Storage: 5% to 90% non-condensing

Dimensions
• 415 x 390 x 89 mm (16.34 x 15.35 x 3.50 in)

Certifications
• FCC Class A
• CE Class A
• VCCI Class A
Sipariş Bilgisi
DMC-1000 16-bay Media Converter Mounting Chassis