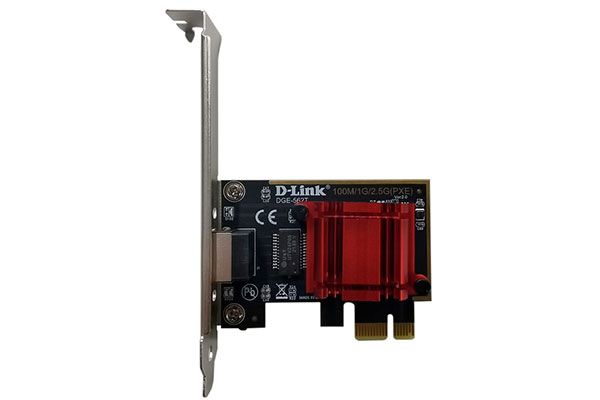 Tanımlama
The high performance DGE-562T PCI Express 2.5 Gigabit Ethernet Network Adapter offers increased bandwidth and connection reliability than standard PCI network cards. This adapter supports IEEE 802.3bz 2.5GBase-T standard and provides data rates of up to 5 Gbps in full-duplex mode.
Advanced Features
The DGE-562T supports Wake-on-LAN (WOL), an Advanced Configuration Power Interface (ACPI) function, allowing a powered off computer to be powered on from a remote station. This function allows the administrator to send wake-up signals to a computer. The DGE-562T supports the onboard screening of 802.1Q VLAN Tagged Ethernet frames, allowing to create several subnets for each server and isolate devices within each VLAN from the other part of a network for security enhancement and traffic management. The DGE-562T also supports 802.1p Priority Encoding.
Power Saving
The DGE-562T supports power saving mode in your network. This adapter is compliant with IEEE 802.3az Energy-Efficient Ethernet and reduces the power consumption when network utilization is low.
Genel Özellikler
Chipset
• RTL8125
Interfaces
• One 100/1000/2.5GBase-T port with RJ-45
Installation Slot
• PCI Express x1
LEDs
• Link/Activity
• Speed
Network Cables
• Ethernet: UTP cat. 3 or above (100 m max.)
• Fast Ethernet/Gigabit Ethernet/2.5 Gigabit Ethernet: UTP cat. 5 or above (100 m max.)
Standards and Functions
• IEEE 802.3 10Base-T
• IEEE 802.3u 100Base-TX
• IEEE 802.3ab 1000Base-T
• IEEE 802.3bz 2.5GBase-T
• IEEE 802.3az Energy-Efficient Ethernet
• 802.3x Flow Control in full-duplex mode
• Auto MDI/MDIX adjustment
• PCI Express 2.1 compliant
• Advanced Configuration Power Interface (ACPI)
• Wake-on-LAN and "RealWoW!"
• 9.8 KB Jumbo Frame
• 802.1p Priority Encoding
• 802.1Q VLAN Tagging
Duplex Mode
• Full/Half-duplex for 10/100 Mbps
• Full-duplex for 1000 Mbps / 2.5 Gbps
OS Support
• Microsoft Windows 10 (32/64), 8/8.1 (32/64), 7 (32/64)
• Microsoft Windows Server 2012, 2008
• Linux up to 4.15
Physical Parameters
Dimensions (L x W x H)
• 71.5 x 50 x 1.6 mm
Temperature
• Operating: 0 to 60 °C
• Storage: -10 to 70 °C
Humidity
• Operating: 10% to 90% non-condensing
• Storage: 5% to 90% non-condensing
Sipariş Bilgisi
DGE-562T  PCI Express 2.5G Ethernet Network Adapter