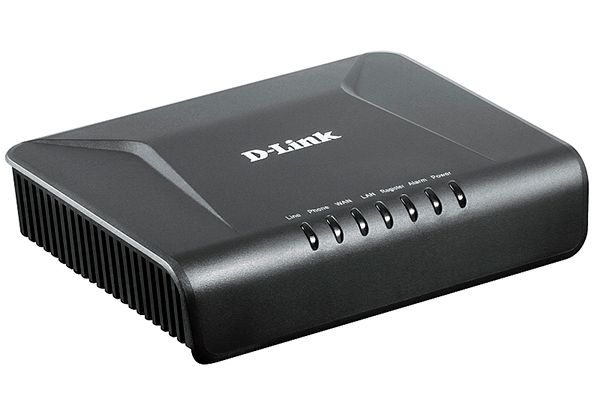 DVG-7111S
Phone Adapter with 1-Port FXS, 1-port FXO, 1-port WAN 10/100Base-TX, 1-port LAN 10/100Base-TX
Nereden Alınır
Tanımlama
INTERNET PHONE MADE FOR HOME & SOHO
The D-Link DVG-7111S 2-port VoIP Telephone Adapter (TA) allows you to take advantage of your DSL/cable modem connection to make inexpensive Internet phone calls. It combines the industry's latest Voice over IP network technology with advanced communication features, and is compatible with industry wise phone service. With an FSX phone port, this VoIP TA connects you to an ordinary phone set to let you make Internet phone calls. An FXO port allows you to convert digital voice from an IP network or the Internet to the ordinary analog voice and send it out to a PSTN phone line for reception by analog phone users.
SUPERIOR VOICE QUALITY
The DVG-7111S incorporates Quality of Service (QoS) to ensure that voice received through the Internet is the same as or even surpasses that received on the ordinary phone. It supports many useful functions such as call transfer, caller ID display, 3-way conference, phone book, speed dialing and hot lines to make it convenient to dial out or answer phone calls.
SHARE INTERNET ACCESS
The DVG-7111S integrates a router function into the same box, so you can surf web pages, watch video or play on-line games while making Internet phone calls. You do this by connecting your PC to the LAN of this VoIP TA, or by connecting multiple computers to this LAN port through an Ethernet switch. This device provides priority queues to streamline traffc to let you experience superior video and on-line games.
COMPLETE SECURITY
The DVG-7111S supports voice VLAN to isolate your voice communication so it cannot be tapped over the network. It provides NAT frewall to protect your network from Internet intruders. For access control, it flters users' packets with port-based and IP-based flters. Parental control allows you to block undesired web sites and set time schedule for Internet logins
Genel Özellikler
Fiziksel Özellikler
Device interfaces
• 1 RJ-11 FXS phone port
• 1 RJ-11 FXO phone port
• 1 RJ-45 10/100BASE-TX LAN port with auto-MDI/MDIX
• 1 RJ-45 10/100BASE-TX WAN port

General features
• 3-way call conference (local mixer)
• Call-parking
• Call Back on Busy
• Digit Map
• Direct IP-to-IP Call without SIP Proxy
• Echo cancellation (Echo tail 64ms)
• Hot Line and Warm line calling
• Includes a phone book with speed dial
• Music on hold
• MWI
• Multi SIP Account (up to 3 proxy)
• Need to support IP-IP call (P2P: RTP connection) without proxy (ex. phone book)
• VMWI-Via FSK

Call features
• Anonymous Call Blocking
• Call Block and Filter
• Call Forwarding - Always
• Call Forwarding - Busy
• Call Forwarding - No Answer
• Call Forwarding - Follow Me
• Call Forwarding - Unconditional
• Call Forwarding - Unavailable
• Call History (Call status)
• Call Hold
• Caller ID (Proxy support)
• Caller ID blocking
• Call Pick Up
• Call Return
• Call Transfer (Proxy support)
• Call Time
• Call Park & retrieve
• Call Waiting
• Do Not Disturb

Telephone features
• I Codec: G711μ/A-law, G729A/B/AB, G.723(6.3/5.3 kbps), G.726(40)
• Echo cancellation
• Voice Activity Detection (VAD) for G.711/723/729
• Comfort Noise Generation (CNG) for G.711/723/729
• Out of Band DTMF event
• Gain Control (incoming/outgoing)
• Automatic voice/fax/data detection and switching up to 33.6Kbps
• Echo Canceller
• Adaptive Jitter Buffer
• G3/Super G3 T.38 up to 14.4 kbps
• DTMF detection and generation
• Caller ID detection and generation: Bellcore type1 and 2, ETSI type 1 and 2
• Caller ID detection mode: DTMF • FSK auto detection at same time
• Tone / Multi tone detection: 300~2KHz
• T.38 real time FAX/T.30 FAX bypass through G.711
• CPT: 1 continuous cadence steps, 16sets (Optional)
• FXS support 12/16 Khz (Optional)
• Terminating Impedance Agnostic – 8 Settings

Management
• Automatic Provisioning (Firmware Update / TR-069/104(Optional) )
• (SNMP v2 and standard provisioning functions removed when this option is selected)
• Confguration Backup/Restore
• DHCP / PPPoE /Static / PPtP / L2TP / MAC Clone on WAN
• DNS and Dynamic DNS
• Firmware upgrade through Web interface
• Flat Call Detail Record (CDR)
• WAN IP and Net Mask Specifcation
• Network Time Protocol time synchronization and confgurable time zone
• Password Security (WebUI)
• SNMP v2
• System event
• Syslog
• TFTP/FTP/HTTP Client and TFTP repository maintenance

Account management
• By port registration
• By device registration (share account)
• Mixed mode (Hunt number for inbound, by port number for outbound)
• Invite with Challenge
• Register by SIP Server IP Address or Domain Name
• Support RFC3986 SIP URI format

Diagnostic LEDs
• Power
• Phone (x2)
• WAN

QoS
• TOS
• 802.1P Priority Queues (8 queues)
• Diffserv (DSCP)

VLAN
• VLAN Tagging in voice
Dimensions
• 135 x 96 x 40 mm

Weight
• 160 grams

Power requirement
• 12VDC 1A

Power input
• 100-240Vac, 50/60Hz, 1A,

Power consumption
• 4.8W

Operation temperature
• 0˚ to 45˚C (32˚ to 113˚ F)

Storage temperature
• -20˚ to 65˚C (-4˚ to 149˚ F)

Operating humidity
• 10% to 90% non-condensing

Storage humidity
• 5% to 95% non-condensing

Emission (EMI certifications)
• FCC Class B
• CE

Telecom certifications
• FCC Class B
• CE

MTBF
• 115486 Hrs