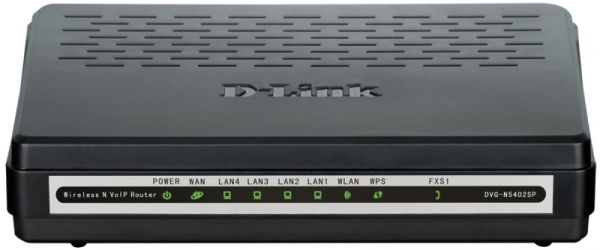 DVG-N5402SP/1S/C1A
VoIP-FXS-portu ve 4-port switch ile kablosuz yönlendirici
Nereden Alınır
Tanımlama
SIP-telephony
VoIP-FXS-router has a port that allows you to connect an analog phone to make calls via the Internet.
Wireless Interface
Using Wireless Router DVG-N5402SP, you can quickly arrange high-speed wireless network at home or in the office, providing Internet access to computers and mobile devices almost anywhere (within range of a wireless network.) The Router can serve as a base station for wireless network devices of the standards 802.11b, 802.11g and 802.11n (up to 300 Mbit / s). Enable and disable the wireless network router, you can single click WLAN, located on the device.
In the router supports multiple functions for the wireless interface. The device supports several security standards (WEP, WPA/WPA2), filtering devices to be connected to MAC-address, as well as allows you to use WPS, WMM.
In addition, the device is equipped with a button to disable / enable the Wi-Fi-network. In case of need, such as leaving home, you can turn off the router's wireless network at the touch of a button, while the devices connected to the router's ports will remain in the network.
Security
Wireless Router DVG-N5402SP provides firewall. Enhanced security functions minimize threats of hackers and prevent intrusions to your network.
Configuration and Management
To manage and configure the wireless router DVG-N5402SP uses a simple and user-friendly web-interface (available in several languages).
Genel Özellikler
Fiziksel Özellikler
Hardware
WAN interface
1 10/100BASE-TX Ethernet port for cable or DSL-modem or connect to a dedicated Ethernet-line
LAN interface
4 порта 10/100BASE-TX Ethernet
WLAN interface
• IEEE 802.11n (до 300 Мбит / с)
• IEEE 802.11b / g
FXS interface
1 FXS port to connect an analog phone or fax machine
Frequency band
• 802.11b: 2400 ~ 2484 МГц в диапазоне Spit
• 802.11g: 2400 ~ 2484 МГц в диапазоне Spit
• 802.11n
◦ HT20: 2400 ~ 2483.5 MGts in range ISM
◦ HT40: 2422 ~ 2452 MGts in range ISM
Speed ​​Wireless
• 802.11b: 11, 5.5, 2 and 1 Mbit / c for each channel, with automatic speed
• 802.11g: 54, 48, 36, 24, 18, 12, 9 and 6 Mbit / s for each channel, with automatic speed
• 802.11n
◦ HT20: up to 150 Mbit / s
◦ HT40: up to 300 Mbit / s
Modulation Schemes
• 802.11b: CCK, DQPSK, DBPSK
• 802.11g: 64QAM, 16QAM, QPSK, BPSK, DSSS
• 802.11n: 64 QAM, 16QAM, QPSK, BPSK
Software
Basic functions SIP
• Invite with Challenge
• Register for IP-address SIP-server or domain name
• Support the format of SIP URI (RFC3986)
• Support for outbound (outbound) proxy
• Таймеры сессий (update/re-invite)
• Support for DNS SRV
• Types of calls: Voice / Modem / Fax
• User-configurable dial plan (dial plan)
• Identify the source and destination (P2P-calls) manually
• Dialing E.164 (with an exclusion rule ENUM)
Call Functions
• Direct call IP-to-IP without SIP proxy
• Hold / resume a call
• Call Waiting
• Forwarding (unconditional, on busy, no answer)
• "Do not disturb"
• Message Waiting Indication (MWI)
• Lock Hidden Numbers
• AntiAON
• Speed ​​Dial
• «hotline"
Voice Features
• Кодеки: G.711 a / μ-law, G.729A, G.726, G.722
• DTMF detection and generation
• Comfort noise generation (CNG)
• Voice Activity Detection (VAD)
• Variable (dynamic) jitter-buffer
• Generation of call progress tone (FXS)
• Program Gain
• In-band DTMF, out-of-band DTMF (RFC2833, SIP-INFO)
• Support for tone / pulse dialing
• Detection and generation Caller ID (Caller ID)
• T.30 FAX bypass по G.711, T.38 Real Time FAX Relay
Network Features
• Types of WAN-connections:
◦ PPPoE
◦ Static IP
◦ Dynamic IP
◦ PPTP/L2TP
◦ PPTP/L2TP + Static IP
◦ PPTP/L2TP + Dynamic IP
• DHCP server and DHCP client
• DNS relay
• Skipping a VPN tunnel (PPTP/L2TP)
• Dynamic DNS
• Static IP-routing
• Remote access
• Network statistics for each interface
• IGMP Proxy
• RIP
• UPnP
• VLAN support
• Supports ping from the external network (WAN ping respond)
Wireless connection
• Supported safety standards:
◦ WEP
◦ WPA/WPA2 Personal
◦ WPA/WPA2 Enterprise
• MAC-фильтр
• Methods PIN and WPS PBC function
• Функция WMM (Wi-Fi QoS)
• Advanced Settings
Firewall Features
• Network Address Translation (NAT)
• Stateful Packet Inspection (SPI)
• IP-filters
• MAC-фильтр
• URL-фильтр
• DMZ-зона
• Function of ARP-zashtitы and DDoS-Attack
• Virtual servers
Configuration and Management
• Web-based interface for configuration and management of multiple languages
• Access the TELNET
• Upgrade the firmware of the router through the web-interface
• Save and load configuration
• Support for remote logging
• Automatic synchronization of system time with a NTP-server and manually configure the date and time
• Функция ping
• Утилита traceroute

Physical Properties
Indicators
• POWER
• WAN
• 4 LAN indicator
• WLAN
• WPS
• FXS
Power
• Power supply: External Power Adapter DC 12V/1.25A
• Power on / off
• The RESET button to return to the factory defaults
• Кнопка WPS
• Power on / off the wireless network
Operating temperature
От 0 до 40 C
Storage temperature
-20 To 70 ° C
Operating Humidity
From 10% to 90% non-condensing
Storage humidity
From 5% to 95% non-condensing