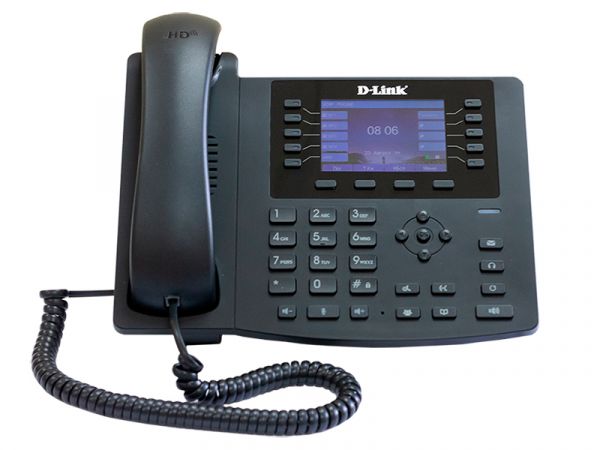 DPH-400GE
IP phone with 1 WAN port 10/100/1000Base-T, 1 LAN port 10/100/1000Base-T and PoE
Nereden Alınır
Tanımlama
IP-phone DPH-400GE is designed for use in small, home offices and for
installation at the enterprises of small and average business. With its modern and stylish design,
high performance and versatility, this phone is perfect
solution for business. DPH-400GE can be used in network environments that use
connecting to the Internet via cable modem, digital subscriber line (DSL) or LAN
network (LAN). The phone can be registered with SIP server (s), the controller connection (softswitch'e),
telephone station (s), IP PBX or IMS system, as well as connect to the terminals using the SIP Protocol.
You can also connect a computer user to this phone and not to the local network
directly. The device is made in plastic housing, supplied with the phone
the handset cord to the handset and the wall-mounting kit. On the front of the phone is
LCD display, which displays various information. To configure your phone
the user can use the keyboard/LCD display or Web browser.
Genel Özellikler
Physical parameters and operating conditions Size  240 x 185 x 45 mm Weight  1000 g Food  Input: 5VDC, 1.0 A Power consumption  Typical: 2.5 W (in standby mode)  Max.: 2.8 W (conversation mode) MTBF (hours)  583 598 Temperature  operating: 0 to 40 °C  Storage: -20 to 60 °C Humidity  operating: 10% to 65% without condensate  Storage: 15% to 85% without condensate Certificates  CE Class B
Fiziksel Özellikler
Main Interfaces  Port WAN 10/100/1000BASE-TX PoE ports to connect to the Internet  Port LAN 10/100/1000BASE-T to connect to PC Buttons and keys  4 software and hardware keys for some functions  5 keys SIP line  MWI  RLS (Release Key)  Call hold (Hold)  Call redirection (Transfer)  Conference (CONF)  Phone book  Call history (History)  Redial (redial and the entry to access to call history; end dial and call the number)  Speaker (Speaker)  4 navigation keys to navigate in the settings; setting the level the ringer, loudspeaker and handset  Enter (the submit button)  12 numeric keys, including keys * and #  Off sound (Mute)  The adjustment of the volume level (Vol /Vol+) Signal, media & network protocols  SIP RFC 3261  SIP RFC 2327  RFC 1889 RTP  The IP address assignment: Static IP address, DHCP and PPPoE  STUN, static port mapping (for NAT traversal)  SNTP  DNS and DNS SRV  TFTP/FTP/HTTP for Auto Provision  IP/TCP/UDP/ARP/ICMP  Router mode and bridge Phone functions  5 SIP accounts  Displays the number of the caller  Call history: missed 300 calls, incoming calls, 300, 300 outgoing calls  Phonebook (up to 500 contacts and phone numbers)  Remote phone book (up to 4 phone books in xml format)  Display date/time  Display of call duration  12 ring tones to choose from (9 tones and 3 melody)  9 numbers for speed dial  Indicator of an incoming call  Flexible dial plan rooms  Password protection when you access interface settings  Pre-set before sending  Connectivity module the extension keys  MWI  SMS  Keypad lock  Emergency call Voice codecs  G. 711a/u (64 kbps)  G. 729A/B (8 kbps)  G. 723.1  G. 722  AMR  AMR-WB  iLBC Advanced features  silence Suppression  Acoustic echo cancellation (G. 167)  Voice activity detection (VAD)  Generation of background noise  Jitter-buffer  Transmitter DTMF (SIP info, transparent, RFC 2833)  Masking packet loss (PLC)  Support HD Voice