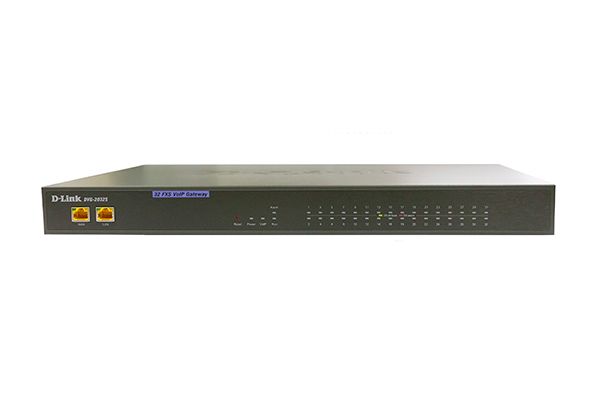 DVG-2032S/16CORU
EOL
Modular VoIP Gateway 16-port FXS, 1-port 10/100 Mbit / s Ethernet WAN, 1-port 10/100 Mbit / s Ethernet LAN and one open slot for an optional module for 16 FXS ports
Nereden Alınır
Tanımlama
DVG-2032S/16CORU * is an ideal solution for Internet telephony, dynamic business. This gateway converts voice traffic into data packets for transmission over the Internet, and is fully compatible with the services of Internet telephony SIP. Gateways are high-density and low-cost, provide convenience and guaranteed savings for companies in need of frequent long-distance and international business calls.
Modular Solution
With the ability to install add-on module (DVG-2032S/16MORU), DVG-2032S/16CORU allows you to easily double the number of available ports FXS (16 to 32). This makes it possible to increase the capacity of the system as the number of users, storing the customer's investment.
Cost reduction. Investment protection
DVG-2032S/16CORU Gateway provides an easy and inexpensive upgrade networks to support Internet telephony, allowing users to save previously purchased phones and fax machines. Investment protection is achieved through the use of existing infrastructure and the possibility of its gradual modernization.
Guaranteed quality of voice
gateway DVG-2032S/16CORU provides voice and fax messages in accordance with generally accepted international standards of voice and data. Support for Quality of Service (QoS) provides the communication quality comparable to analog telephony.
Call Functions
• Hold, Call waiting, call forwarding, call forwarding • Easy control with the registration of telephone calls • Visual Caller ID (Caller ID)

Setup / Upgrade
• Easy setup IVR or web-interface • Software update web-based interface
* WARNING Gateway DVG-2032S/16CORU revision C1 is compatible with only the DVG-2032S/16MORU revision C1 and vice versa. Audits devices A1 and B1 are not compatible with the chassis and modules revision C1.
Genel Özellikler
Fiziksel Özellikler
Device Interfaces
16 port FXS c 1 RJ-21 connector
1 open slot for an optional module
Port 10/100BASE-TX RJ-45 WAN
Port 10/100BASE-TX RJ-45 LAN Support for additional modules

DVG-2032S/16MORU Connection Types

DHCP-Client
PPPoE-client
PPTP
Cable BigPond (Australia) Routing Features

DHCP-server
Virtual Server
DMZ
Filtering based on port, IP, MAC, URL
RIP v.1, v.2, Static route
DDNS: DynDns.org, TZO, 3322.ORG
NAT Traversal: pass-through NAT, client STUN, UPnP Phone Book

The management server phonebook, up to 200 entries IAD SIP

Join the port "By Port" "By machine"
Dialing in the standard E.164
Redundant SIP PROXY (registration)
SIP PING
CLIR (Anonymous Caller ID)
Feature hot line / warm line
The functions of the group call
Hold, Call Waiting
Call forwarding: with accompaniment / unaccompanied
Call forwarding: unconditional, busy, no answer
3-way conference
T.30 fax pass-through
T.38 fax relay
Adjustable fax tone detection
Out of band DTMF: RFC2833, SIP INFO Voice Features

G.711 a / u, G.726 (32K), G.729A, G.723.1
Adjustable jitter-buffer
Variable packet size (depending on the codec)
Detection and Noise Reduction
Echo
The local phone book can call other VoIP-device without registration
Speed ​​Dial
Call Filter - accept / reject calls from on IP-addresses
ID-generation FXS-calls: DTMF, FSK (Bell core / ETSI)
Support the FLASH control

Web-based interface and Telnet, IVR Indicators

Power
Reset
Alarm
Run
From 1 to 32

The physical parameters
Input voltage
90-260 VAC, 50/60 Hz
The internal power supply Dimensions

442 x 330 x 43 mm
Installation in a 19 "rack, 1U Height Weight

4.1 kg Operating temperature

0 to 45 C Storage Temperature

-25 To 75 C Humidity

Up to 95% non-condensing Emission (EMI)

FCC Class A
CE Safety Certification

UL